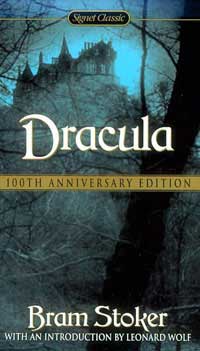 GENRE: classical vampire novel
SUMMARY:
When Jonathan Harker visits Transylvania to help Count Dracula with the purchase of a London house, he makes horrifying discoveries about his client and the his castle. Soon afterwards, a number of disturbing incidents unfold in England: an unmanned ship is wrecked at Whitby; strange puncture marks appear on a young woman's neck; and the inmate of a lunatic asylum raves about the imminent arrival of his 'Master'. A battle of wits ensues between the sinister Count Dracula and a determined group of his adversaries.

THIS MISS REVIEWS:
I finished re-reading this novel for the
Ireland Challenge 2010
and I am happy that I can finally review this vampire classic. I will say this right at the beginning – any fan of vampire literature should read Bram Stoker's
Dracula
. He was not the first person who wrote a vampire novel, but he definitely shaped and popularized the genre as we know it today, or at least, as we knew it before the surge of modern, sexy vampires with granite skin. (Yes, I confess, I'm not very keen on the Twilight saga.)
This epistolary novel, using letters, diary entries, telegrams and newspaper articles to convey the story, focuses on the mysterious Count Dracula, a centuries-old-vampire and Transylvanian nobleman, and the events that are linked to him, directly or indirectly. His elusive and mysterious nature is heightened by the fact that he is always talked about, but he never narrates the story himself. The reader has to put the pieces of his identity and character together by following all opinions of the characters appearing in the book. I really loved this aspect, as it truly keeps Dracula in the shadows, leaving one wandering about him all the time. What is also interesting about Dracula is that he was inspired by Vlad III the Impaler, a cruel Wallachian prince (1431-1476).
I truly loved the vampire lore used in the novel. It is very traditional and follows an established mythology about vampires: garlic, as well as wild roses, provides protection against vampires; sunlight kills them; a stake through the heart and decapitation kill them; holy objects repel them and ward them off. That's very traditional and in modern vampire novels, writers don't follow vampire mythology very strictly, so it was very interesting and refreshing to read a vampire classic in this respect. Vampires are truly separate from humans, not like humans. Dracula, as a very old and consequently powerful vampire, can even turn into a bat or fog, can control the weather, compel human minds and so on. He is charming and can seduce his victims quite easily, but his soul is evil.
Although Dracula never narrates the story himself and is not even present in every part of it, he is well outlined as a character. Funnily enough, all the other characters that are given the chance to narrate the book lack distinct personalities, which is one of the drawbacks of the novel. Also, the writing style is a bit awkward for my taste, and after Dracula comes to London, the atmosphere of Gothic mysteriousness begins to evaporate and things slow down. Dr Van Helsing's planning of how to kill Dracula, this ancient monster, should be exciting, but to me it really wasn't, I'm afraid. In all truth, the novel lacks excitement; there should be more of it, as well as of tension and suspense, considering this is a vampire novel. Dracula truly is an epic character, but his stay in London and all of the London events are not so epically executed, in my opinion. The story really is good, but I don't like the way it's told. I don't mind epistolary novels, but in this case, this style limited the novel. If I compare this novel to Laclos's
Dangerous Liaisons
, another epistolary novel, Dracula is weak in terms of style. The style just seems to gnaw on the atmosphere.
I have to warn you that the only romantic story present in the novel is that between Jonathan Harker and his betrothed Mina Murray. Any sort of romantic relationship between Mina and Dracula appears only in some movie adaptations, most notably in 'Bram Stoker's Dracula' starring Gary Oldman as Dracula and Winona Ryder as Mina, and in some Dracula fanfiction novels. This doesn't mean that the novel is boring because of this lack of the romantic-love aspect. The focus really is on Dracula and his far-reaching grasp.
All in all, this was an enjoyable read, with some boring parts, but those are due to the writing style. I have to say this again: a lover of vampire fiction absolutely has to read this novel. It's a vampire classic and although, I confess, there are far better vampire novels out there,
Dracula
has a special something that will always make it a true vampire classic.
THIS MISS RATES
: