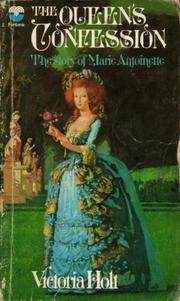 GENRE: historical fiction
SUMMARY:
The unforgettable story of Marie Antoinette, from her pampered childhood in imperial Vienna, to the luxury and splendour of her days as Queen of France, to her tragic end upon the scaffold in the bloodbath of the Revolution .
THIS MISS REVIEWS:
The Queen's Confession
is a fictional biography recounting the life of Marie Antoinette, Queen of France, who was supposed to have said, "Let them eat cake", but who was most certainly a victim of prejudices (the French did not trust her as a foreigner) that escalated into true terror. Told in the first person narration, this novel tells her story from the childhood days she spent as Maria Antonia of Austria, daughter of Maria Theresa, until the day she was escorted to the scaffold.
I thoroughly enjoyed reading this novel and I consider it to be one of the best fictional biographies ever written. Its biggest asset lies in all the historical details that are many in number, but do not overburden the reader at all. Marie Antoinette's life and character are thoroughly explored, as are the lives and characters of her husband, Louis XVI, her siblings in Austria, her new family in France, as well as of her friends. The French court is presented with all its opulence and treachery. The situation in France of that time is explored through Marie's eyes, who at first did not see much in it, as she was too young, and then she needed comfort too much, due to so much stress in her life, to give it any importance.
Marie Antoinette is one of my favourite historical persons and although I'd known much about her prior to reading this novel, I still felt the suspense that the author created so deftly. For example, I knew that Marie could not get pregnant for years, due to her husband's "problem" that he was afraid to fix for such a long time. She was expected to entice him and give France an heir, and that was a great burden for a girl who was, future queen or not, just a teenager at the time. She was bombarded from all sides and that was very intense to read. If you are interested in the famous affair of the necklace that led to Marie's fast downfall, it is explained in great detail and it was quite shocking to read from her perspective how far some people went to destroy her.
The historical aspect of the story, which is basically its major component, was truly well researched and accurate. The fictional additions are very believable – what she might have felt in certain moments, how encounters with certain individuals happened, and so on. It is all done within the set of accurate historical facts. Her actions are not excused, but are explained with honesty. She changed from a frightened girl taken from home to be married into a pampered and extravagant queen, rightfully nicknamed Madame Deficit, as she indulged in spending money and living the opulent life of a queen. She was not a bad woman, but she was reckless and when she realised what the consequences of her actions were, it was too late. She was devoted to her family and to her husband, but she liked to live an extravagant life. I must point out, however, that she was not the only one responsible for the downfall of the French monarchy. It all began with Louis XIV; then, Louis XV brought the monarchy to its knees and Louis XVI and Marie Antoinette already got a rotten country into their hands. It was only that this became painfully obvious later on and since Marie was such an extravagant woman, it was easy to blame her entirely.
This truly is a great, riveting historical novel and I truly believe it is a gem for all lovers of historical fiction. This novel is an example of historical fiction at its best. My copy has almost 700 pages and comes in two volumes, but it reads fast and doesn't feel like 700 pages at all.
To conclude, did Marie Antoinette truly say "Let them eat cake"? We will never know entirely for certain, but it is very probable that she did not.
SPOILER:
It is highly possible that the words were, in fact, spoken by one of her husband's aunts and when the times became tough, it was said that Marie spoke them.
END OF SPOILER.
About the cover: the cover in the picture is not the cover on my version, but I couldn't find a picture of my book's cover, so I chose another cover picture.
THIS MISS RATES: