There's one thing you should know about me - I love quizzes related to literature and books, and when I saw a new one at Pepca's blog
Beyond Strange New Words
, I immediately knew I was going to try it out myself.
In this post, I answer 25 bookish questions.
Here we go
:
1. What percent of books do you get from the library and what percent do you get elsewhere?
I used to mostly borrow books from the library, so I would read around 90% of library books, and the rest of the books were mine. Now, it's the other way around. I borrow books from the library for my family, but I mostly read books I either bought, borrowed from a friend or received for review. Which means that now, I only read about 10-20% of library books. I suppose blogging changed my relationship with the library.
2. What character would you want to be and why?
This is an incredibly difficult question. I love many characters, even some of those that are just inherently bad at heart. But I think I'd most likely be Jane Eyre because I can most easily relate to her. She's learned, and both reasonable and passionate. She's a well-balanced woman.
3. What is your favourite book from your childhood?
Hans Christian Andersen's collection of fairy-tales. We have a book at home that contains thirty of his fairy-tales and I used to read that book all the time.
4. What is your favourite book?
The Phantom of the Opera
by Gaston Leroux.
5. Which book series do you have the most books of?
Charlaine Harris' Sookie Stackhouse novels. I own the first seven books of the series.
6. Do you buy used books or use swap.com?
No to both. If I buy a book, I do so because I really want to own it and I prefer my books to be brand new. I think I'd use swap if it actually shipped books to my country.

7. Who is your favourite/hottest guy or girl?
Currently, that would be Loki from the movie
Thor
, to be completely honest. Before watching the movie, I knew about Loki from the Edda poems and from the Marvel comics, and in the movie he really shines. As a character, he is currently my hottest guy, and yes, he is also very handsome. I adore characters that are complex and multi-layered. As Loki appears in literature - as I said, in the Edda poems (Norse poetry) and Marvel comic books - he counts for this questionnaire.
8. What is your favourite book cover?
I only have to choose one? I don't really have my very favourite book cover, but I have to say that I'm still quite impressed by the cover for
The Boy with the Cuckoo-Clock Heart
by Matthias Malzieu.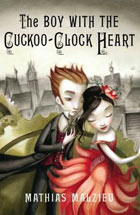 9. What is your favourite type of book cover?
I like a vintage look, scenery, with something symbolic added to the image - something that's related to the book. I don't likw covers that have too much going on in them or that are pink.
10. What was the first book you read?
I'm not 100% certain about this, but my earliest memory of my trying to read a book by myself and succeeding points to "Cinderella" by the Grimm brothers. Not a book, but still, it's a story.
11. What is your favourite book to movie adaption?

Definitely BBC's adaptation of
Jane Eyre
by Charlotte Bronte, starring Ruth Wilson and Toby Stephens. It's not a movie, but a mini-series in four parts. I also adore the movie adaptations for
The Lord of the Rings
by J.R.R. Tolkien.
12. When did you start making videos on YouTube?
Originally, this was a questionnaire made by a vlogger. I don't have a
v
log, but I have a
b
log and I started blogging in May 2010.
13. Where is the best place to read?
My own bed. The bathroom, too. :)
14. Have you written your own fan fiction for a book?
Several, actually. For me, fanfiction is a very fun way of releasing my creative energy, as well as great practice for a writer in making because you have readers who give you (almost) immediate feedback, pointing out your strengths and weaknesses. I recommend fanfiction.net. If a fanfic is well written, it's really intriguing to see your beloved characters in different situations.
15. If you could only read 3 books for the rest of your life what would they be?

This question is nearly impossible to answer, but from the top of my head, I'd say:
1.
The Phantom of the Opera
by Gaston Leroux,
2.
Jane Eyre
by Charlotte Bronte,
3.
The Thirteenth Tale
by Diane Setterfield.
16. What is the longest book you have read?
The Lord of the Rings
by J.R.R. Tolkien. The version I read had a bit over 1000 pages. Impressive.
17. If you were to write a book, what would the title be and why?
Oh, my. It's hard to say. I'm working on a story, for fun. I guess the working title is
Gemini
. Why this title? Because it involves twins, and I like the sound of Latin for a book title. There you go.
18. How many books did you read last month?
I read seven books in August.
19. What is the last book you read?
Mad Love
by Suzanne Selfors.
20. Do you imagine about yourself in the books you like?
Yes, sometimes. I'm sure every reader has done that.
21. What is your favourite bookstore?
I love two bookstores and both are in the city centre, practically staring at each other. They're not internationally known, so their names are probably irrevelant.
22. Hardback or paperback?
When I buy books, always paperbacks. I just prefer paperbacks to hardbacks because I can carry them around in my bag, and honestly, they're cheaper. In the library, there are usually only hardbacks, so I don't really have a choice there.
23. Do you have more than one copy of the same book?
Actually, yes. I have
Wuthering Heights
by Emily Bronte in English and in Slovene, and we have three Bibles. I guess that counts.
24. Would you rather read about vampires or werewolves?

Vampires.
25. Do you own more than 150 books? If not, would you?
I do. I didn't buy them all, just... a lot of them.